KALIBER DOBERMANS
Home to the Highest Quality Doberman Pinschers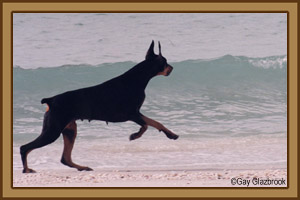 Welcome to the Kaliber Doberman website! We are dedicated to breeding the finest quality A.K.C. registered Doberman Pinschers-- both structurally and mentally superior. Purchasing a Doberman is a serious undertaking and should be given careful consideration, study and planning. We hope this website will aid you in your quest.
We are one of a number of responsible Doberman fanciers dedicated to sharing information and networking. Whether you decide to buy a puppy from us, or someone else, we are here to help you find answers to your questions about health, behavior, training and more.
As a member of the Doberman Pinscher Club of America we do not condone or support the breeding of the "White/Albino" Doberman as it is a genetic mutation. For more information on this defect click here.
Kaliber Dobermans' email has changed!
© 2017- Kaliber Dobermans
Site designed and Maintained by ADAMAS